Trident range of portable waste compactors
Designed to be environmentally safe, the TRIDENT range of fully portable compactors are 100% leak proof, thus completely eliminating all unhygenic spillage's and leaks, and totally negates any chance of vermin infestation. Even during transportation, the TRIDENT portable compactors remain leak and odour proof.
Waste disposal made easy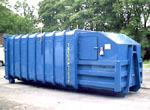 The TRIDENT 700 series of portable hydraulic waste compactors can be lifted, transported and emptied by any standard skip loader vehicle. TRIDENT 1000 series requires a standard Roll On / Roll Off type vehicle
Saves Space
As the TRIDENT 700 portable compactor is a completely self contained unit, it requires minimal space, little more in fact thean the average car.
Uncompromising safety and quality
Our safety and quality policies are being constantly updated to conform to or exceed E.C directives. Standard equipment on the TRIDENT portable series:
Safety interlocks on any user aperture
Electric timer minimises power consumption and allows continuous unsupervised operation
Heavy duty nitrile rubber seals provide 100% odour and leak proofing
Rounded container corners allow easy dicharge of the densely compacted waste during emptying
Corporate Identity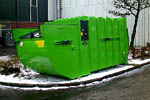 In addition to the above, the completely handcrafted structure is primed with a Zinc rich undercoating prior to being painted in a colour of your choice.This provedes longevity to the high quality finish of your machine which can also at special request, be decorated with a company logo providing free advertising for your company whilst the compactor is being transported for emptying.