Trident Range of Static Waste Compactors.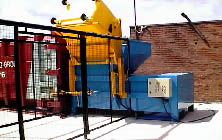 Designed with your waste disposal needs in mind the TRIDENT RANGE of waste compactors offers a high powered, competitively priced solution to a wide range of waste disposal problems.
The TRIDENT static hydraulic waste compactor can compress refuse into an enclosed container with a force in excess of 40 tones. A variety of container sizes are available to suit every level of waste output.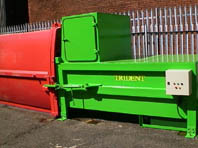 Our safety and quality polices are being constantly updated to conform to or exceed current E.C Directives. Trident static compactors are manufactured specifically with the users in mind, special box or splayed hopper arrangements, side or rear end bin lift.
Standard equipment on the TRIDENT compactor includes: safety interlocks on any user apertures, providing isolation of operation should anyone open the loading door during the compaction cycle, and an electric timer to minimise power consumption and allow continued unsupervised operation.