Small Internal Compactors
Trident supplies a range of small internal compactor units to suit users' needs.
Trident 1100 Litre Wheelie Bin
The TRIDENT Series of bin presses can compress refuse into a variety of different containers with forces in excess of 5 tones. The TRIDENT Series of bin presses offers a variety of styles and sizes, which are available to suit every level of waste output.
The benefits of a Trident Bin Press is its ease of use, provides remarkable reduction in volume of waste held by removing the air content from the waste. A ratio of 5:1, whilst ensuring suitable wheel bin weights for waste handling and disposing.
Suitable for a variety of user application: Supermarkets, Shopping Centres, Hotels, Cinemas, Distribution Centres, Councils and Household Amenity Sites.
Trident Rota Pack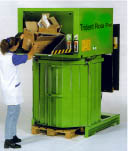 The Trident Rota Pack can be used on internal compaction usage Working with cardboard, into a baled pellet form for recycling. General waste pellets are compacted to a high density to minimise Container movement on the end user premises.
Trident Drum Press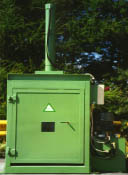 The Trident Drum Press has been specially designed with the end users requirements as paramount. It is quite capable of working with polythene, 200 and 300 litre containers and 25 litre steel drums. It is specially designed internal piercing mechanism allows liquid to be evacuated from the container into an adjacent container, thus eliminating spillage or contaminants and allowing the best possible price in any recycle value.